Filling the Room, Having Filled A Need
First Look at Luna Azul draws a crowd!
May 21st, 2019
On Tuesday, May 7, a surprisingly cool and damp day for the desert southwest, some 100 people headed to Luna Azul, for a first look at what we've promised.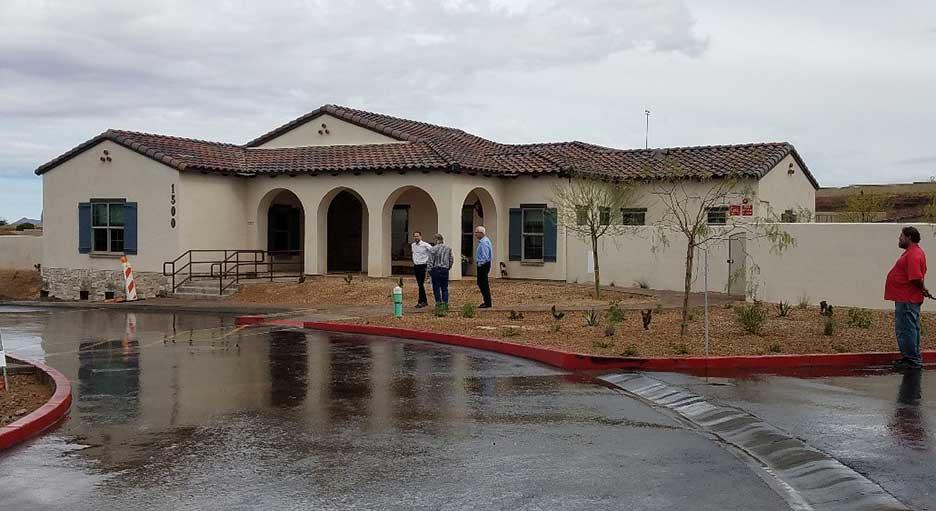 Parents arrived with their adult children or loved ones in mind or alongside to check out the cottages and clubhouse that together create the nation's first for-sale community for adults with special needs.
"We can't wait to move my sister here," said Julie, eager for her sister who has long lived in an institution in the state of Washington. "Moving her to a place that offers safety, comfort and community will truly be the answer to our prayers," she said. Julie's sister is expected to move in later this summer.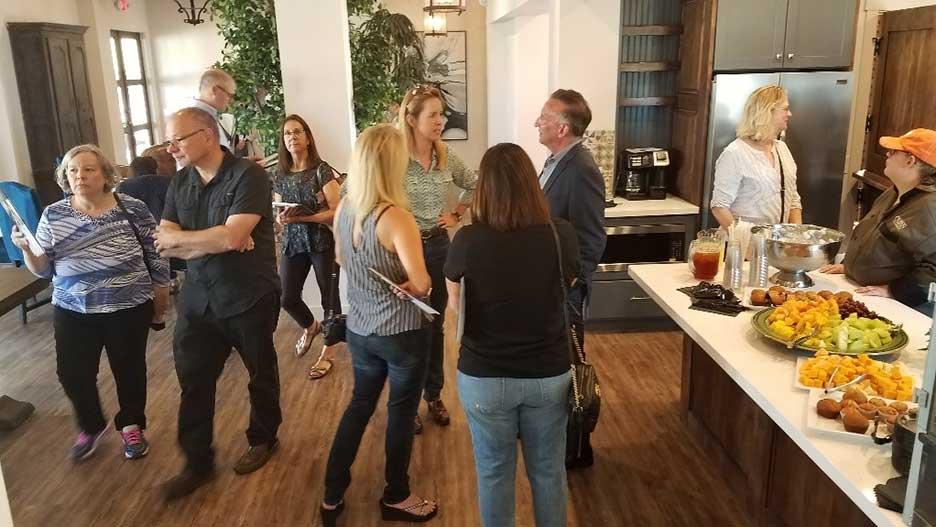 Another family flew in from California, so eager to see the neighborhood and reserve a cottage for their adult son, while families who had already reserved homes stopped by to see the progress.
Also on hand was Pam Blanton from Partners4Housing, which is providing roommate matching services for Luna Azul residents. Pam was rarely alone, often sitting with moms, dads, providers and reporters eager for more information about her unique program.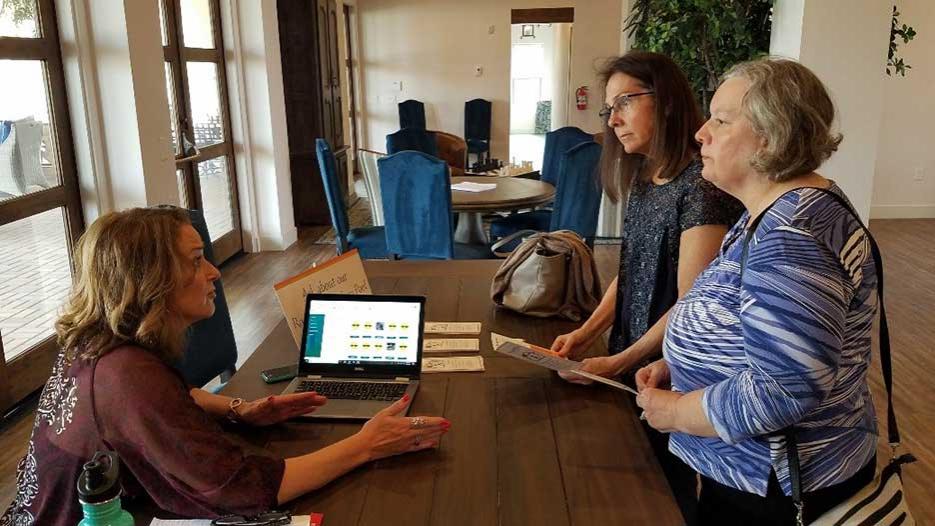 "I found people were so reassured by what we're bringing to this community," said Pam, whose in-depth matching process is equal parts personality profile, benefit review, needs identification and human preferences.
Not one to invite people for a "first look" without first assuring every detail is in place, Developer Mark Roth had the hacienda and model home fully furnished and finely detailed, presenting an aesthetic that had many parents agreeing "We want to live here, too!"
Indeed! The lawn and landscaping were in place, the pool filled, cushions fluffed and fixtures polished. Add catering by the Civitan Foundation, and their very special special needs servers, the event had a true celebratory party vibe.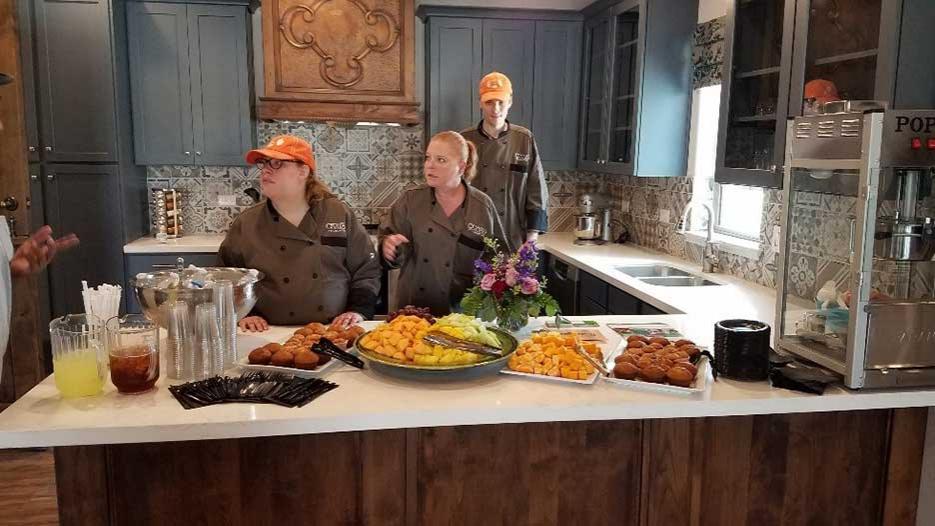 By mid-day, Architect Ross Chapin joined the festivities via Skype to talk with parents about his philosophy and practice of creating community through design. Renowned for his "pocket neighborhoods," Ross shed light on the intentional room-sized porches, village greens and overall site plan that pull people together and foster friendships. "The engagement was terrific, and I felt like I was in the room visiting with parents eager to learn more," Ross said afterwards.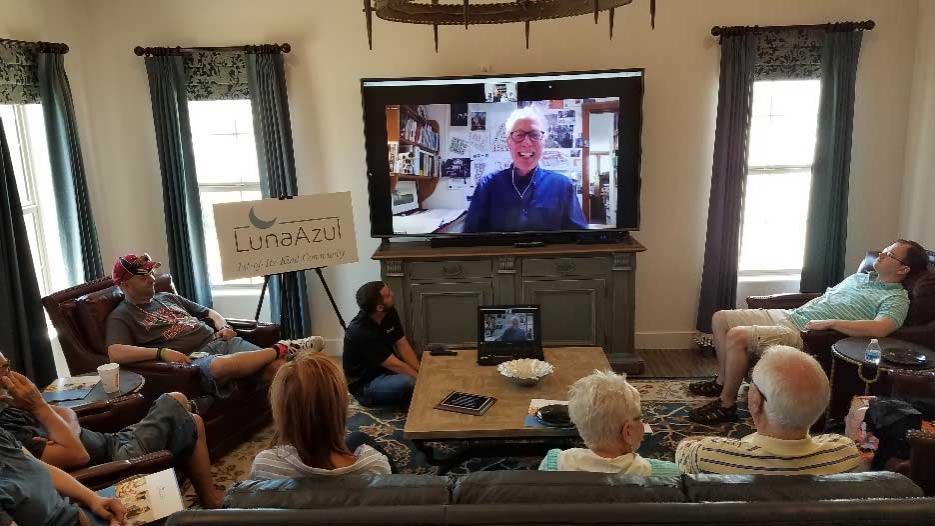 Meanwhile, the model home was staffed with tech-heads from iWired, our home technology provider, demonstrating the security features, entertainment options and tech as it applies to day-to-day needs such as adjusting the natural light, monitoring kitchen appliances, and regulating the thermostat. Their demonstrations reminded our visitors that Luna Azul's smart homes serve more than the residents, but also distant parents and guardians who can check in remotely for their own reassurance.
Perhaps the true man-of-the-hour was our Community Director Rex Matthews. Holding court for the entire four hours, Rex was delighted to engage with families who are navigating Arizona's provider community, or learning about Luna Azul's anticipated social calendar, or who were simply getting to know this fellow who, after devoting the past 25 years of his career to people and services in the state's developmental disability community, will be on site at Luna Azul full time.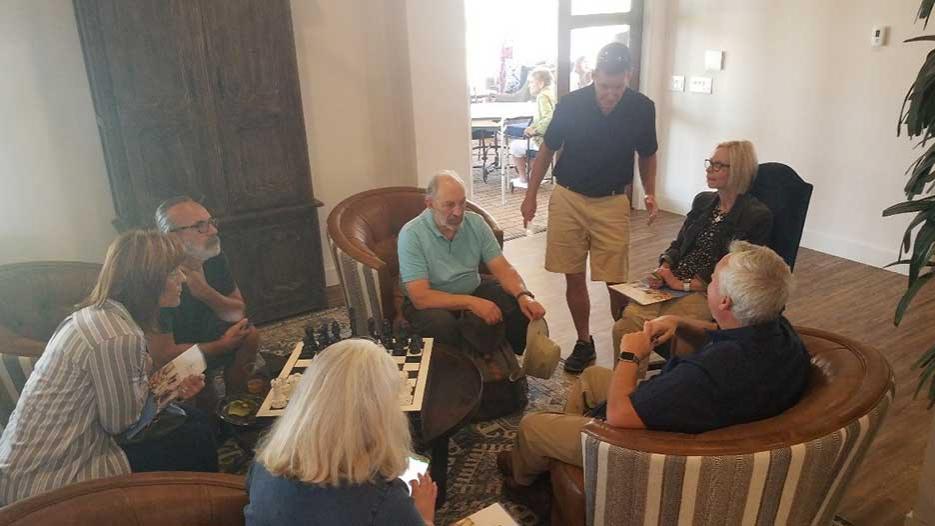 As the day's events drew to a close, several future residents gathered in the clubhouse. Together, they were chatting about a recent movie they had each seen. It was a preview of what's to come at Luna Azul: a social life that is authentic, spontaneous and fun – with friends to share it all.