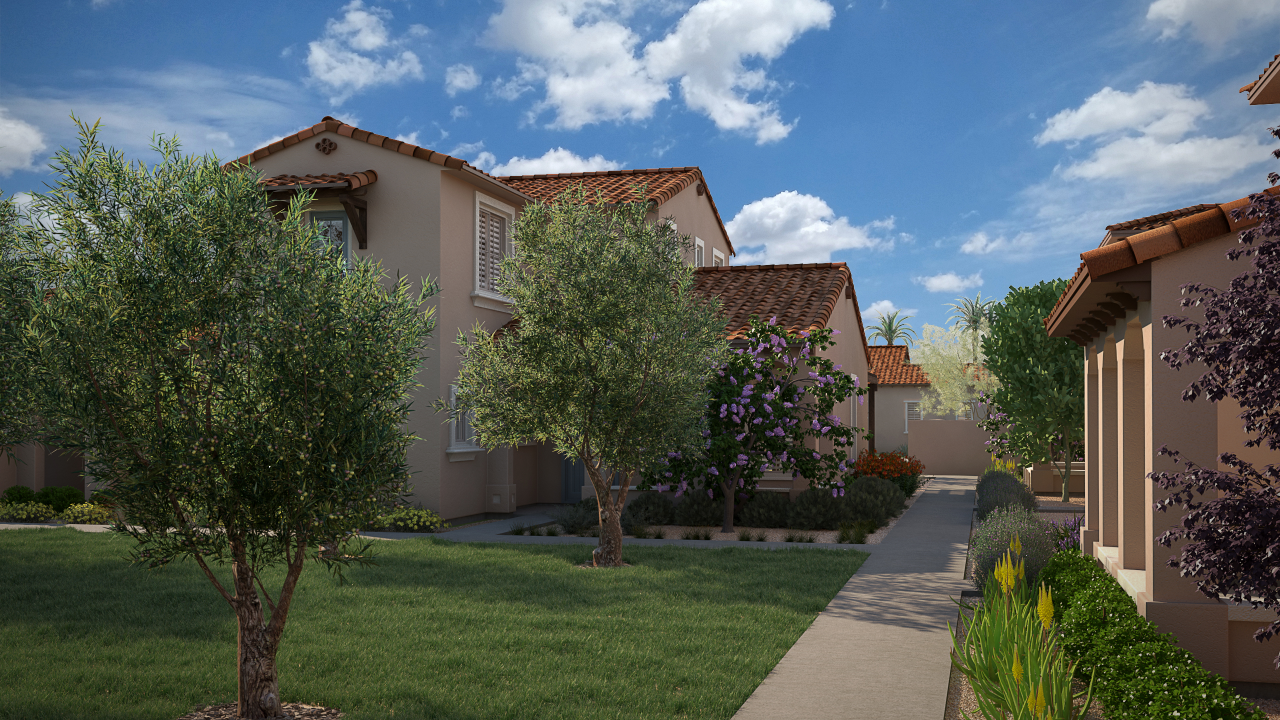 Project Fact Sheet
April 18th, 2019
Luna Azul is the nation's first for-sale community for adults with special needs offering residents and their families the peace of mind that comes with home ownership. Dominant themes among adults with disabilities are their desires for permanency, independence and self-determination, and to be able to choose where, how and with whom they live while receiving the services they need.
The Project/Community:
Luna Azul is a "pocket neighborhood" in Phoenix, Arizona. For the past six years, Arizona has earned the top ranking by UCP among all 50 states for providing the best Medicaid service system for individuals with intellectual and developmental disabilities.
The total site is about 4.5 acres conveniently located off Loop 101, near urban amenities and public transportation.
The community is comprised of 30 single family homes, a clubhouse, pool, landscaped courtyards and shared green space to encourage social interaction among neighbors.
Luna Azul's perimeter wall, secured entry, 24/7 on-site staffing and traffic-free environment help assure safety and security for residents.
A partnership with Partners4Housing provides an online matching platform to help find compatible roommates.
The Homes:
The homes favor a Mediterranean architectural style with terracotta roofs and stucco cladding.
Homes range from approximately 1,100 to 2,000 square feet and include two- and three-bedroom floorplans.
Living areas and front porches face a courtyard and shared greenspace.
Each home is pre-wired for Z-Wave smart home technology so residents can implement whatever smart solutions they desire now, or in the future. The choices are extensive: automated drapes, cameras, security systems, smart and remote-controlled thermostats, lighting and door-locking mechanisms, to name a few.
Homes are priced from the mid $300,000s to the mid $500,000s.
Community Services:
Through its home owners' association, Luna Azul will employ a full-time, onsite director and overnight staffing to encourage resident engagement and community participation, and to help ensure overall safety and resident well-being.
The HOA will also organize social and recreational activities, maintain the common areas and provide other services to meet shared needs of residents. The HOA will not pre-determine activities for residents, but rather will create and adapt plans in collaboration with residents and their families.
Each family will be responsible for securing the support services required for their adult family resident and for furnishing, maintaining and securing their homes.
Development Timeline:
Construction began in April, 2018.
Clubhouse and model homes will open in early May, 2019.
Anticipated completion in winter, 2019.
Project Leaders:
Developer Mark Roth
Having an adult daughter with a rare disability inspired Mr. Roth to create Luna Azul. He has nearly 30 years of business and legal experience in the private practice of law and in both privately-held and publicly traded financial services firms. He is founder and CEO of ECC Management, LLC, and president and chief compliance officer for Claraphi Advisory Network, LLC, an SEC-registered investment adviser. He received a B.S. in Biological Sciences from the University of California, Irvine, and a J.D. from Pepperdine University School of Law. In 2014, Mr. Roth retired from the practice of law to focus on the development of housing options for adults with disabilities.
Project Architect Ross Chapin
Ross Chapin, FAIA, is the leader in defining and designing pocket neighborhoods. His March 2011 book on the topic: Pocket Neighborhoods: Creating Small-Scale Community in a Large-Scale World (Taunton Press) has been featured in hundreds of news outlets from USA Today to Builder Magazine to The Wall Street Journal, where it made the bestseller list. Projects by his office have won numerous design awards including the 2005, 2007 and 2009 American Institute of Architects Housing Awards, and have been featured in Residential Architect, Builder Magazine, Planning Magazine, The New York Times, The Wall Street Journal, Forbes, and more than 35 books, including Solving Sprawl, Superbia, Housing for Niche Markets, and Sarah Susanka's Not So Big House series.