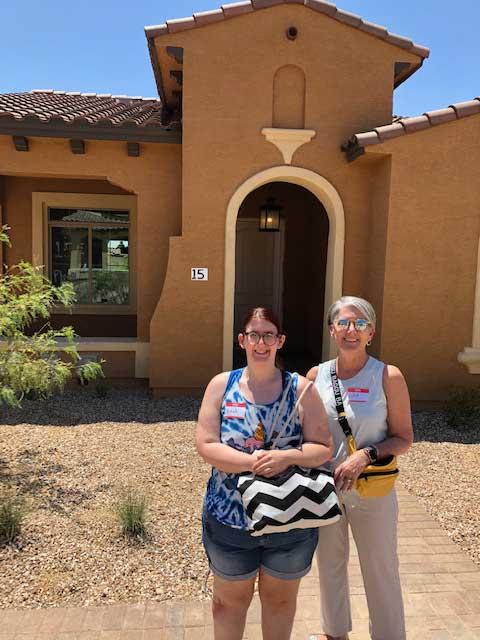 Who Says Money Can't Buy Happiness?
October 8th, 2019
By Jill Mapstead, mother of Leah, a Luna Azul resident.
Who Says Money Can't Buy Happiness?
As a mother, I've found there are few things I won't do for my daughters and few battles I won't take on for them to have better lives and more opportunities. If it might help my daughters have happier lives, then I'll do what I can to make it happen.
Having a daughter with special needs adds a layer of intensity to my drive. If I can, I will do most anything to provide in a manner that may help to compensate for other losses and challenges my daughter encounters in her daily life. I can compare because I have two daughters and only one with special needs. For me, there is a relentless "pursuit of happiness" as I try to level the playing field for Leah.
Leah's social and emotional life is a particularly thorny concern for me. Are her friends a good influence? Do they treat her with respect? Do they nurture her self-confidence? Do they have fun together? Are they loving and accepting?
So, I've been motivated to find a living environment for Leah where friendships can develop organically, where people won't judge or write her off, and where connections can happen without imposed schedules or appointments. Leah living in an environment like this, and having an emotionally satisfying social life, like that of her sister, is a priceless mission for me.
Now, finally, I feel like my husband and I are making that dream come true, by moving Leah to Luna Azul in Phoenix.
Who says Dreams Don't Come True?
While we understand the argument for "inclusion," our experience is that Leah is happiest when she's with others who live with a special needs challenge or disability. These are her peers. This is where she finds the camaraderie of a 'shared journey' and the understanding without explanation[LR1] . At Luna Azul, she'll live among her peers, and have the freedom to spend the time she wants, with her friends or alone, on the schedule she determines for herself. This spontaneity alone is a huge step forward toward our goals for her.
Of course, in any long-term housing for Leah, we wanted staff who, while not intruding on her personal life or inhibiting her independence, would be vigilant and responsive, while personally engaged in the community and her place in it. And, we wanted her environment to be well-maintained and landscaped. A place of pride where residents and their families would enjoy being together. These issues, too, are all resolved for us at Luna Azul.
So, what does all this cost? Can we afford it?
Actually, we could not afford the rent, long term, for any of the other congregate living options we found for Leah. But, by purchasing a home in Luna Azul, and having found a roommate to share the costs, we can indeed afford the housing environment we were searching for. The way it all worked out for us, Luna Azul is providing Leah with a safe, inclusive and permanent housing solution, and costing our family less than $2000 per month. And, with the home ownership equity, I'm hoping Leah's sister will one day take back all the money we put in. We are actually doing this!
Who Says You Can't Have It All?
Leah is beyond excited. She's moving into her new home in a couple weeks, and already making FaceTime friends with her future neighbors. For Leah, this is the closest we've come to purchasing real happiness for her (and we're happy, and relieved, too). We all can't wait for her move-in day and for the start of the next phase of her life.